Leaving a team is pretty straightforward. First, you need to be logged in. If you are logged in, you can select the "Teams" tab in the "My WhatPulse" menu.
If you are in a team, you're only option is "Leave team". If you click that option, the website will ask for your confirmation, as shown below: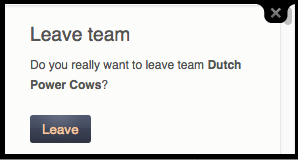 Confirm by clicking "Leave" - and you have left your team!